If you've been looking for a place to renew your wardrobe, or you've been seeking a perfect gift for your fashionista friend, we got you.
From the sunny shores of California, we bring you a curated listicle featuring 29 diverse and stylish brands that cater to various fashion tastes.
Whether you're a streetwear lover or a minimalist at heart, read on to explore the epitome of West Coast fashion.

Let's get started!
Click & skip
---
Streetwear
Streetwear is a trendy and dynamic fashion style originating from urban culture. It effortlessly blends elements of casual comfort with a touch of edginess, making it popular among the youth. LA-based clothing brands often excel in crafting streetwear collections that feature graphic tees, hoodies, sneakers, and other statement pieces.
If you love streetwear, here are some of our favorite Californian brands:
Bricks & Wood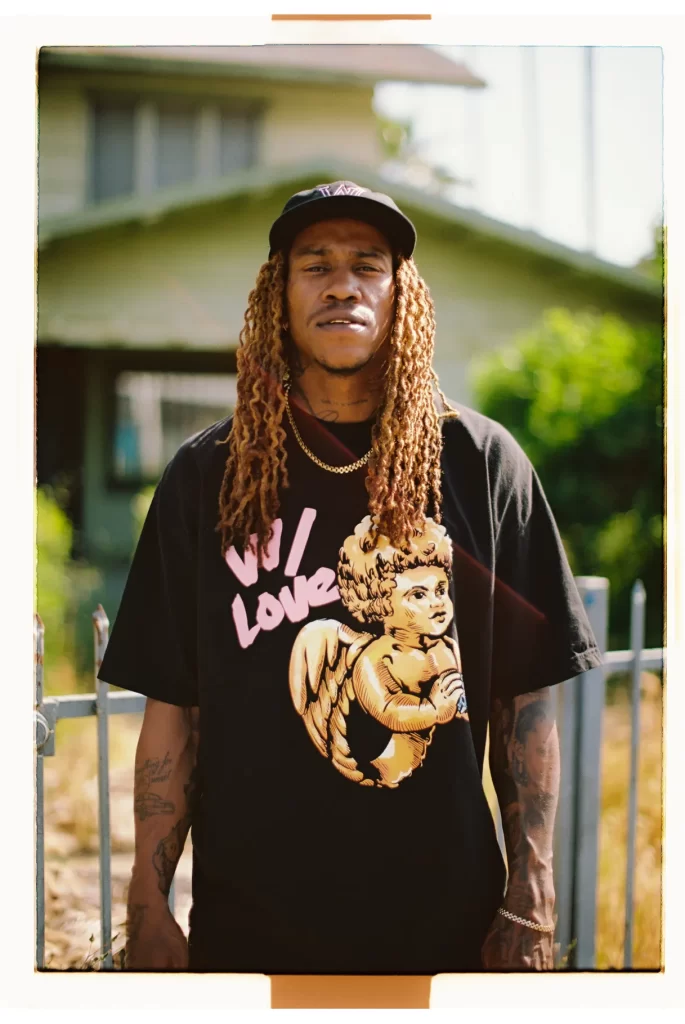 Originating from the vibrant core of South Central LA back in 2014, Bricks & Wood weaves narratives into its clothing, partnering with designers to spotlight the rich tapestry of inspirations drawn from the diverse local community. The brand's cutting-edge streetwear and practical garments present a collection of evergreen designs and immediate must-haves.
Price range: $5 – $260.
Riot Society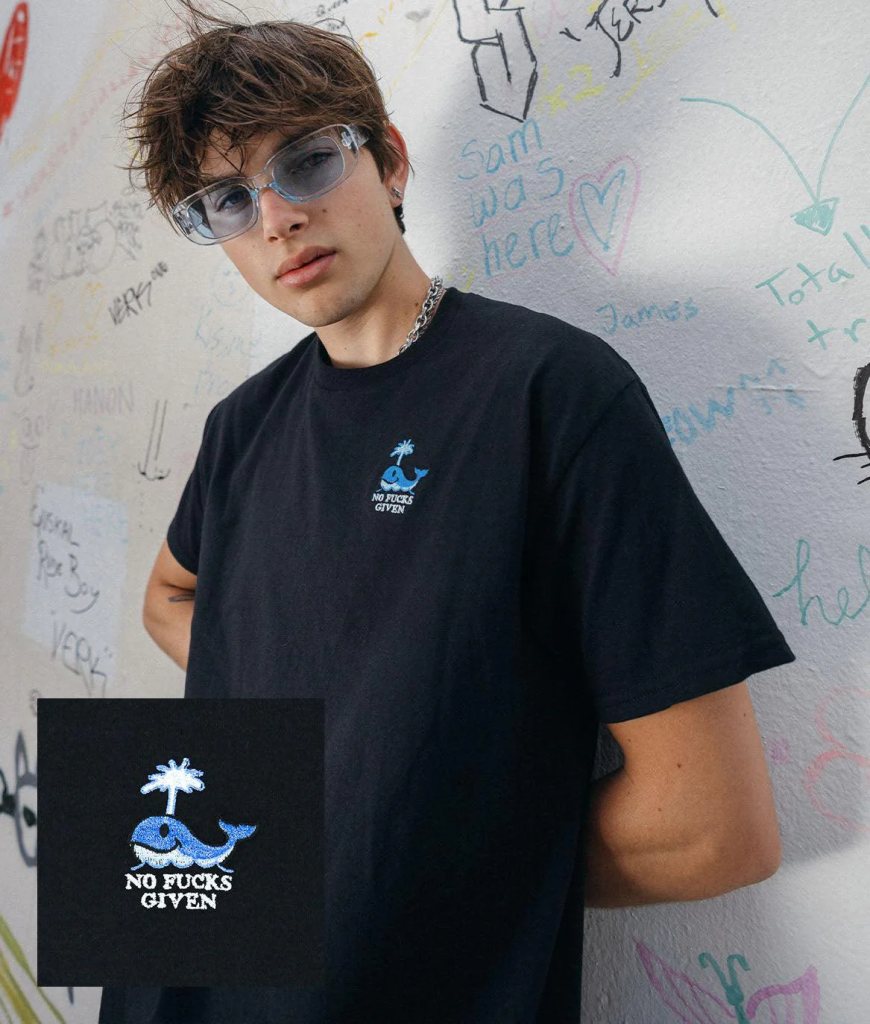 Riot Society is a brand that brings together a perfect blend of street smarts and streetwear! Embodying a quirky and free-spirited vibe, Riot Society knows how to make a statement through their hilarious, wild, and occasionally mind-blowing t-shirt designs. They're all about embracing life to the fullest, marching to the beat of your own drum, and reveling in the riotous moments that make it truly exciting.
Price range: $24 – $60.
Pleasures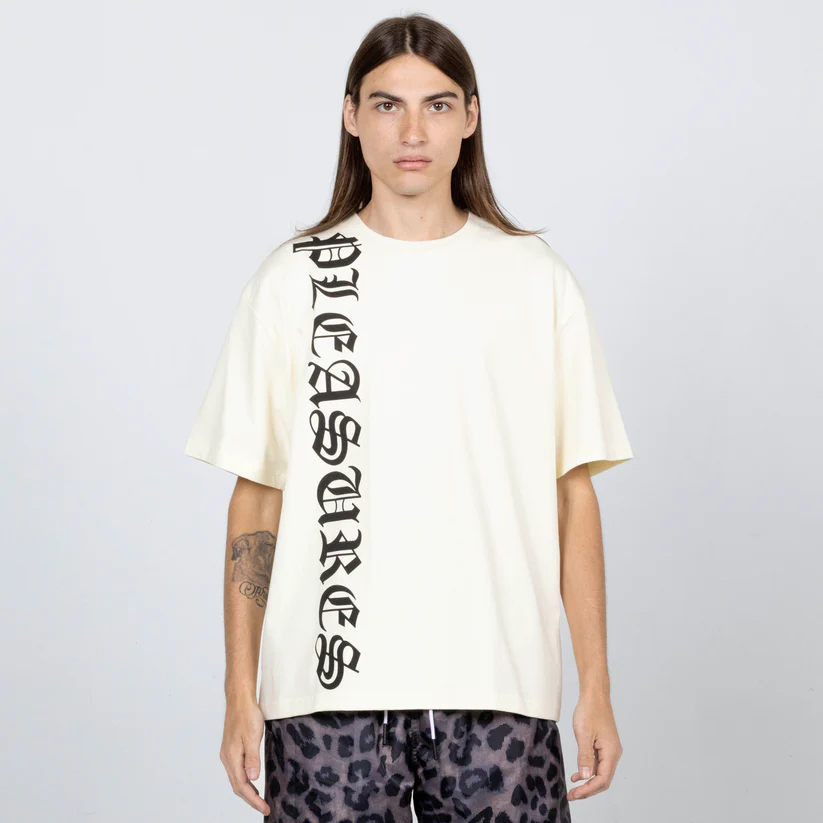 Meet Pleasures, the LA-based streetwear gem founded in 2015 by Alex James and Vlad Elkin. Driven by their passion for music, the brand curates clothes and accessories inspired by the artists, scenes, and styles that resonate with them. With thought-provoking and fun designs, Pleasures strikes a perfect balance between controversy and self-awareness. It's not just fashion; it's an artistic expression of their love for the craft.
Price range: $7 – $150.
Causal Wear
Casual wear embodies a relaxed and laid-back approach to fashion. It's all about comfort and effortless style, offering wardrobe staples that are perfect for everyday activities.
Versatile and accessible, this one is perfect if you don't like to think too much about your outfit while keeping it fashionable.
Here are some really cool LA-based clothing brands that elevate the casual approach.
Paige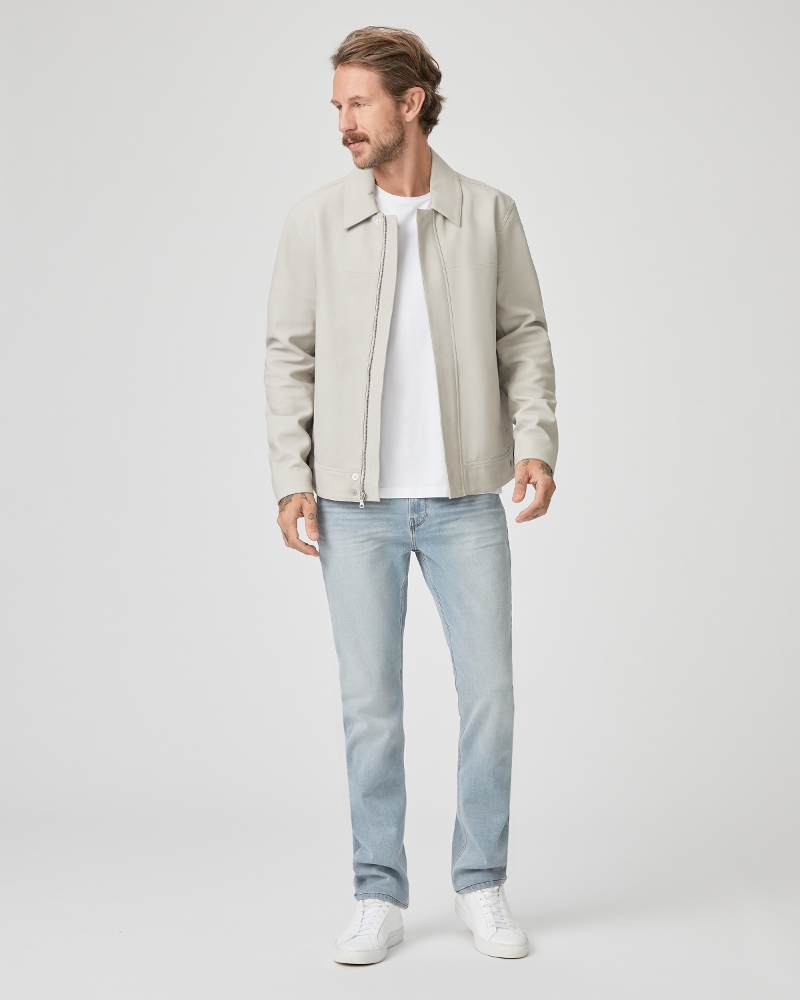 Founded by Paige Adams-Geller in 2004, the brand offers a versatile all-female line, later expanded to include men's clothing in 2006. From dawn to dusk, their denim collections ensure style and comfort, all while contributing to meaningful causes in California and beyond.
Price range: $28 – $1,025.
Les Tien
Crafted in downtown Los Angeles, their luxurious unisex leisure staples bear a soft hand feel, thanks to in-house fabric treatments and garment dyeing. Creative Director Courtney Michelle Ogilvie's vision seamlessly merges comfort, luxury, and maturity. Each piece embodies an understated aesthetic with perfect draping for any body type, creating an everyday style that exudes sophistication. Les Tien's acute attention to detail elevates simplicity to a whole new level.
Price range: $92 – $1,900.
We American


We-American is a brand of trendy dresses crafted with an American spirit in the heart of Boyle Heights, CA. Their quality fabrics and affordable prices make them stand out, reflecting the essence of LA's Sun and Fun.
Price range: $29,99 – $30,99.
Boho-chic
The Boho-chic fashion is just charming. It's a free-spirited style that celebrates the bohemian ethos. All about flowy fabrics, it incorporates dresses, fringes, earthy tones, and a touch of vintage-inspired flair.
Some Californian clothing brands do an outstanding work at getting the best out of it, and here they are:
Xirena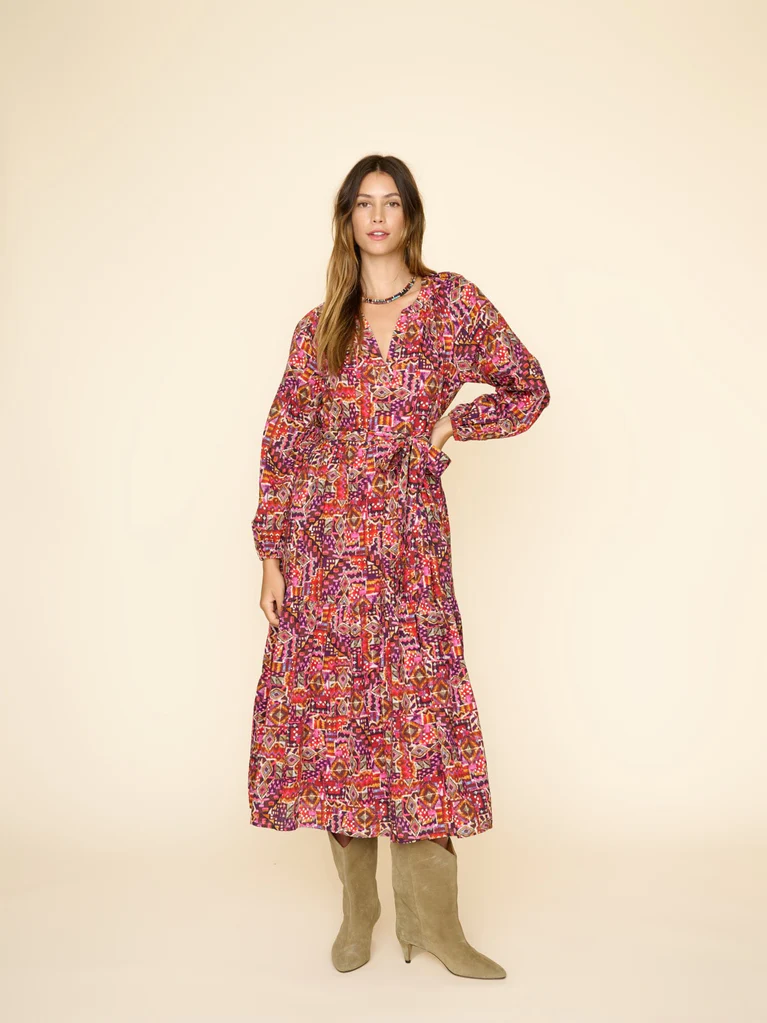 Founded by California native Dierdre Roffoni, the brand draws inspiration from her travels to Formentera, Spain. With each season bringing something new, Xirena's iconic red bar tack sets it apart. Designed in LA and made with the softest fabrics in comfortable shapes, Xirena promises pieces that are truly Made to Live In.
Price range: $16 – $499.
Hale Bob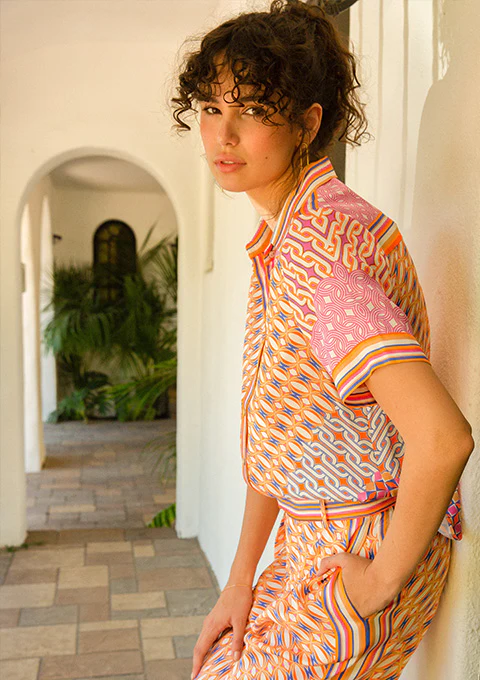 Hale Bob makes modern, fashion-forward, chic, and distinctive clothing. Renowned for exclusive, colorful prints and high-quality fabrics, our collection exudes chic, sexy, and free-spirited vibes. A favorite among celebrities like Sofia Vergara, Eva Longoria, and Halle Berry, Hale Bob's flirtatious yet relaxed style continues to captivate women worldwide. Discover our distinctive and rich designs, tailored for the modern woman.
Price range: $194 – $720.
DÔEN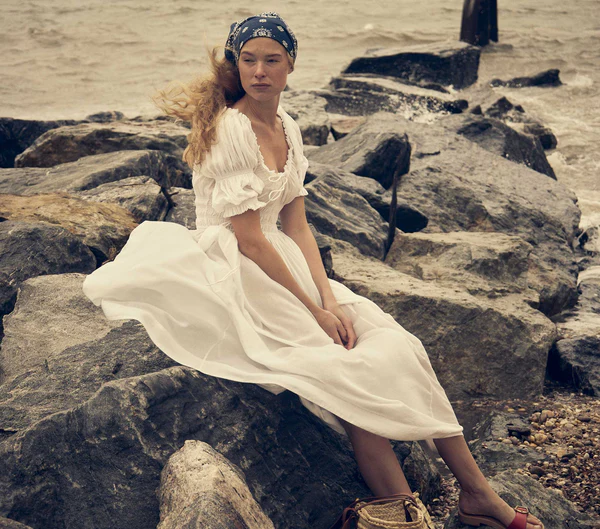 DÔEN is a women-run brand born from the vision of Santa Barbara-born sisters, Margaret and Katherine Kleveland, along with a collective of five women. Inspired by coastal California's nostalgic charm, DÔEN celebrates womanhood with timeless, whimsical collections. Rejecting the traditional wholesale model, the brand fosters an emotional connection through poetic prose and romantic imagery. With a commitment to equity, DÔEN extends its values to its supply chain, empowering women and encouraging responsible growth.
Price range: $68 – $898.
---
You might also like: What to wear in LA: 5 tips & 5 winner looks
---
Formal Wear
When it's time to dress up for special events or occasions, formal wear comes to the rescue. This elegant style focuses on refined cuts, luxurious fabrics, and impeccable tailoring.
From chic cocktail dresses to stylish evening gowns, here are some brands that will have you looking polished and glamorous for any event:
Sene Studio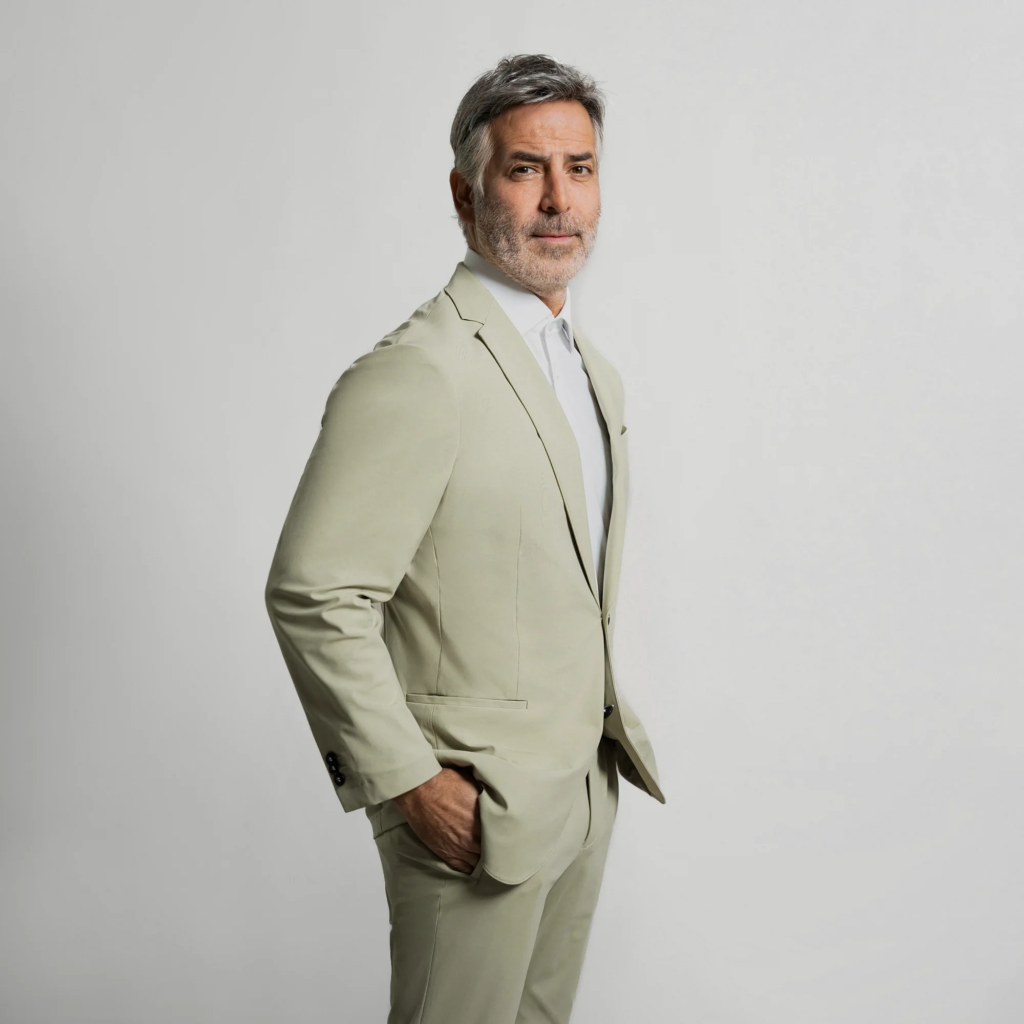 A brand with a mission to create better clothing for you and the planet. That's Sene. Unlike most brands, SENE offers custom-made clothes, ensuring a perfect fit for everyone. Embracing sustainability, they use the finest materials and focus on quality craftsmanship.
Price range: $52 – $699.
Couture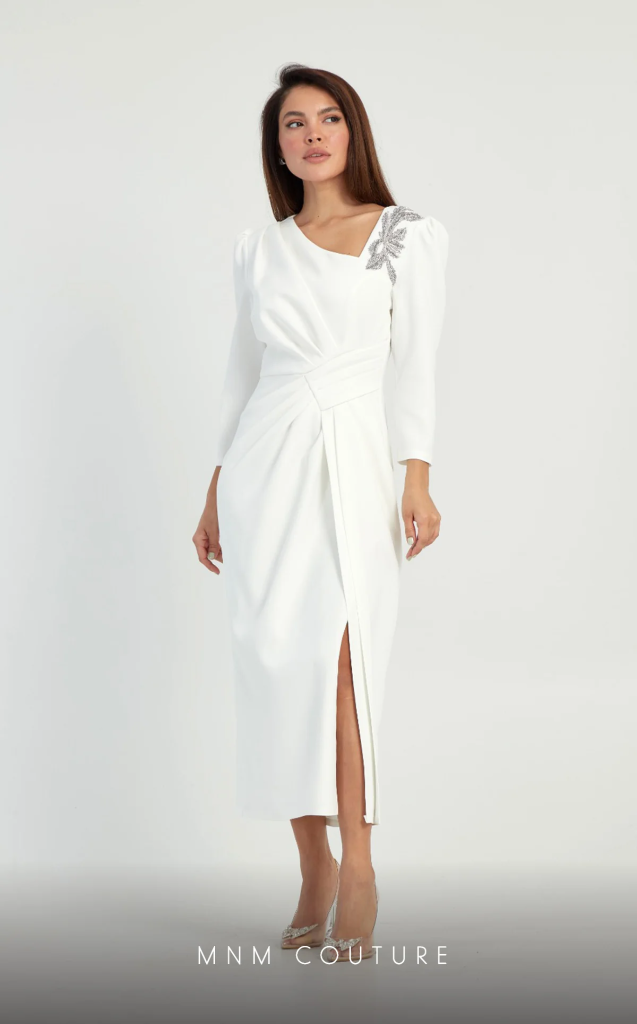 Discover Couture Shop LA has been an exclusive boutique in the vibrant Los Angeles Fashion District since October 2013. Partnering solely with MNM COUTURE, they offer unique and limited gowns crafted by talented Lebanese designers. Embracing originality, inclusivity, and outstanding customer service, they cater to sizes 0 to 28. Now, with an online presence since 2015, they share their exquisite collections with the world.
Price range: $50 – $4,200.
SuitFellas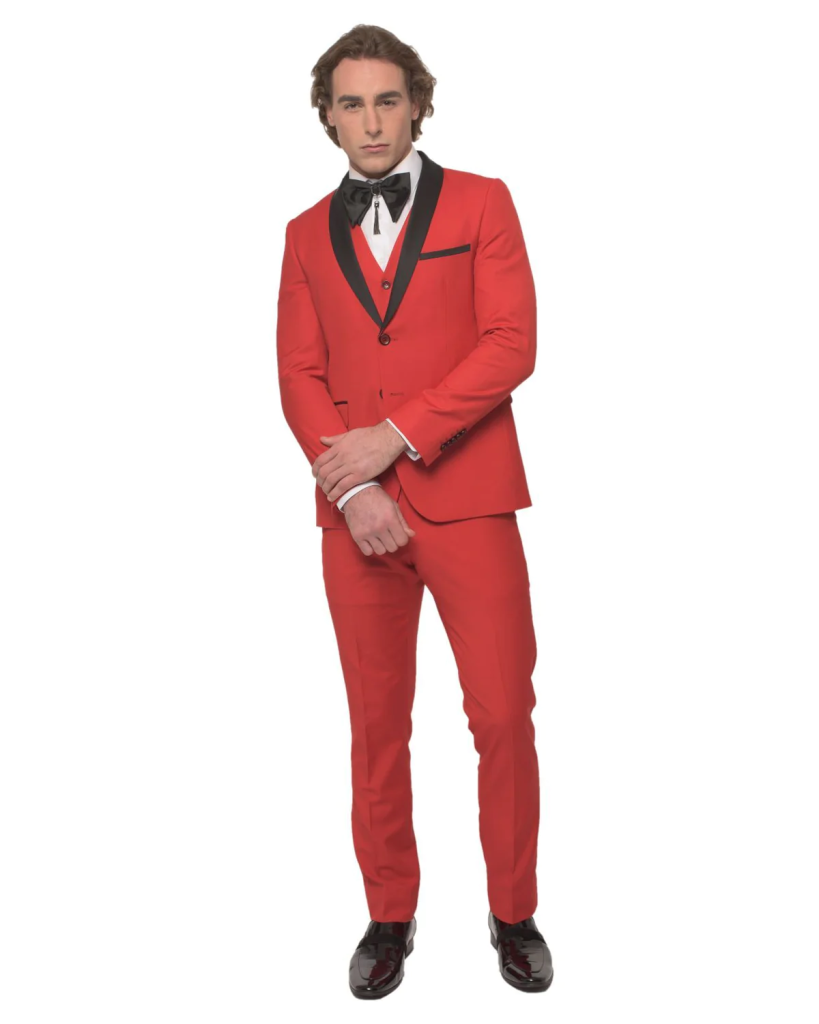 SuitFellas is a leading LA retailer that takes pride in offering superior quality products, everyday low prices, same-day shipping, and exceptional customer service. SuitFellas has earned the loyalty of both fashion enthusiasts and novice e-shoppers, with over 50% of their business coming from repeat customers and referrals.
Price range: $24.99 – $699.
Minimalist
"Less is more" is a philosophy that is still well and alive for a reason. And when it comes to fashion, it's characterized by clean lines, simple silhouettes, and a neutral color palette.
It's about effortless sophistication, and here are some LA-based clothing brands that excel in providing minimalist collections that are versatile and timeless.
Agolde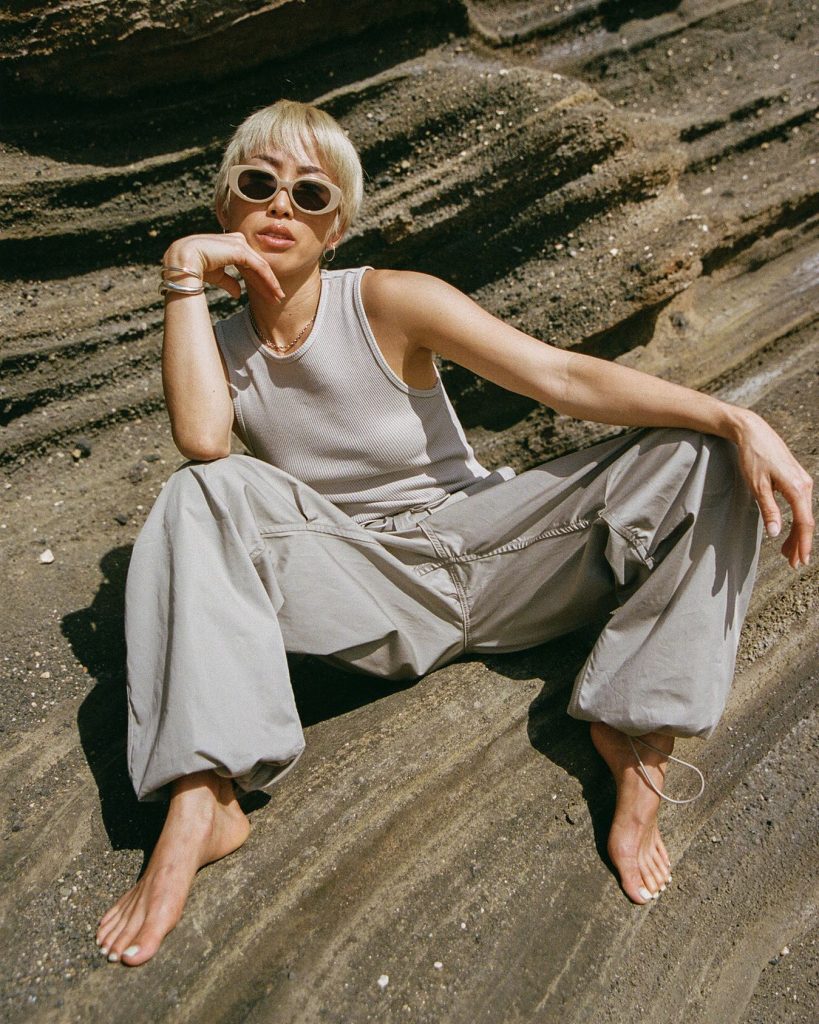 AGOLDE is a fashion-forward denim label that blends experimentation with classic designs. Their silhouettes offer authenticity and uniqueness akin to finding the perfect vintage pair. Drawing inspiration from emerging artists and global influences, AGOLDE creates denim with meticulous detail, sustainability, and comfort in mind.
Price range: $78 – $458.
SLVRLAKE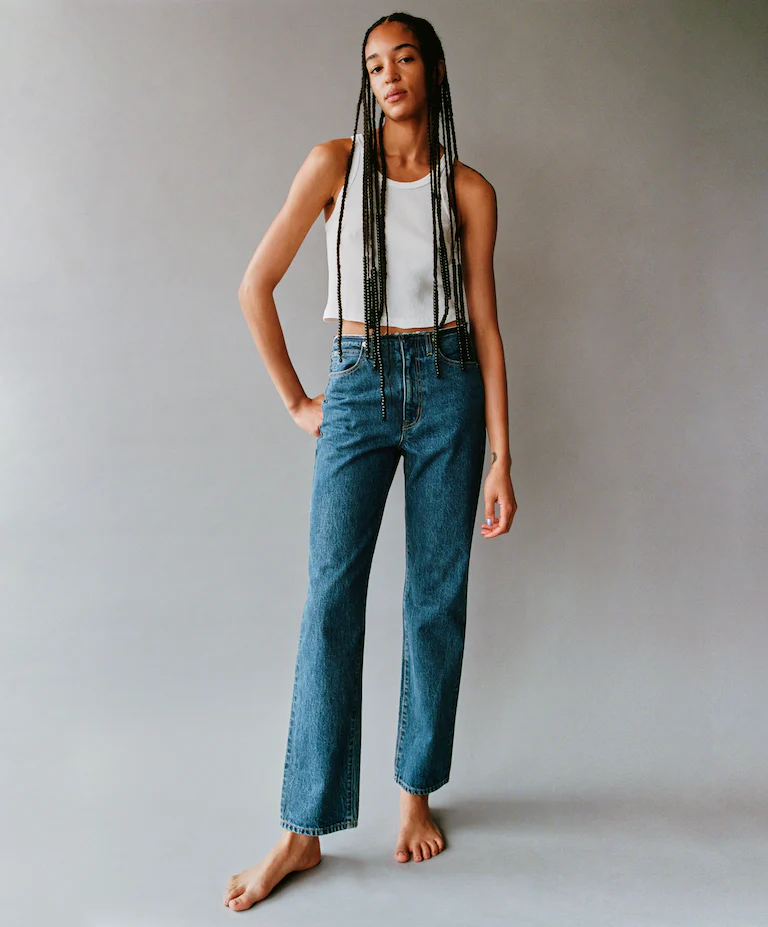 Rooted in Los Angeles and inspired by the diverse California landscape, SLVRLAKE embraces modern minimalism and the timeless allure of nature. Their collection challenges norms and blends old with new. Committed to using the highest quality materials, SLVRLAKE crafts timeless garments that tell your unique story. Their signature 'premium vintage' indigo denim boasts rich, authentic washes and a luxuriously soft touch.
Price range: $99 – $1,199
The Line by K
A brand born out of fearlessness and self-love by fashion blogger-turned-designer Karla Deras, The Line By K is ethically made in Los Angeles. Their high-quality pieces empower women to be unapologetically strong and sexy. Each design is effortless, elegant, and crafted to complement your favorite wardrobe staples.
Price range: $45 – $399.
Contemporary
Contemporary fashion embraces current trends while staying timeless. It's a perfect blend of modern and classic elements, offering a chic and up-to-date appeal.
If you're looking for options to add contemporary pieces to your wardrobe, we got you:
Intentionally "___________"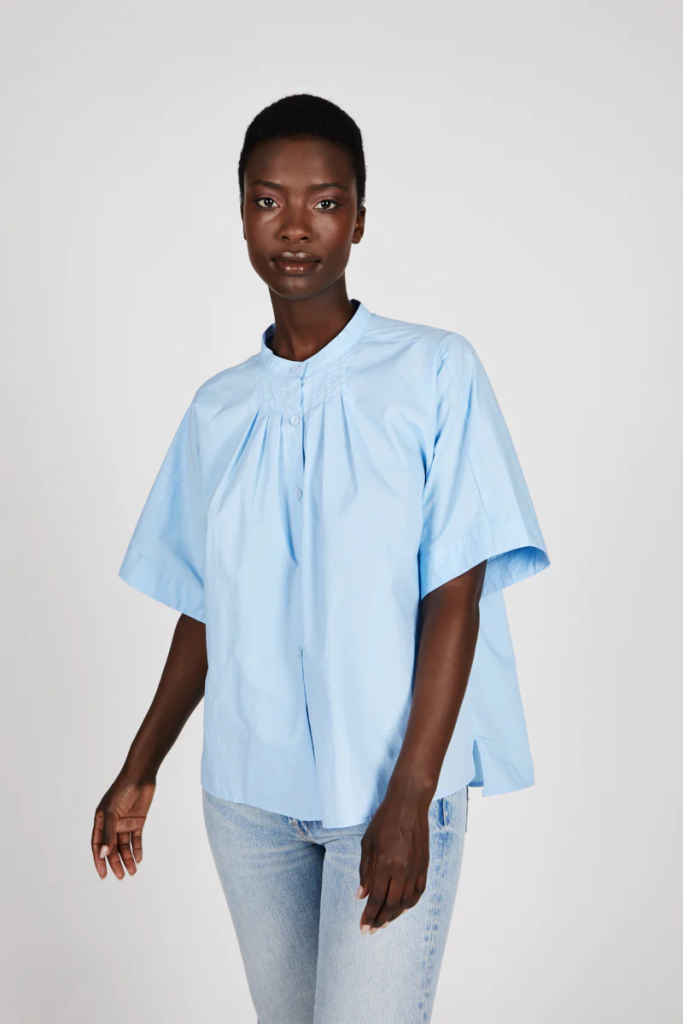 "Intentionally ______," is the brainchild of Creative Director Ty McBride, launched in 2014 in Los Angeles. Their hyper-wearable footwear, produced in Spain and China, caters to diverse personal style spectrums. With nods to minimalism and vintage inspiration, the brand's cult following continues to grow, now offering apparel and the infamous hat collection.
Price range: $32 – $299.
Mantra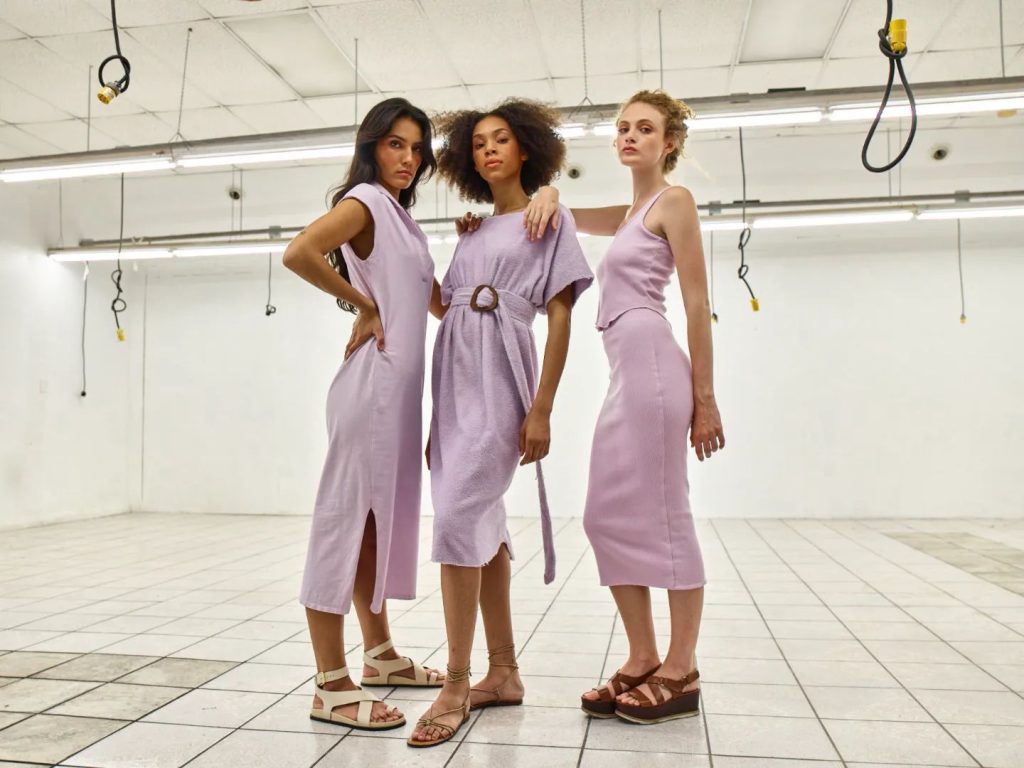 Discover Mantra Los Angeles, where comfort meets self-expression. Founded in 2020 by two women with 20 years of experience in the high-end apparel industry, the brand offers timeless, seasonless essentials. Sustainably sourced materials like French Terry and organic cotton jerseys are proudly produced in Downtown LA, supporting local factories and makers.
Price range: $40 – $265.
Reformation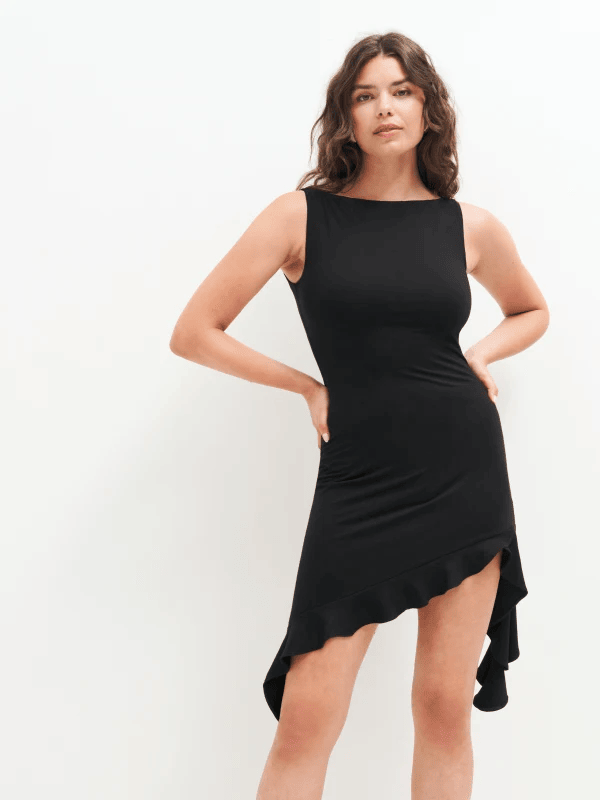 Reformation began in 2009 as a small Los Angeles vintage clothing store. It later expanded into producing its own line, emphasizing sustainability.
With a dedication to celebrating the feminine figure, Reformation creates effortless silhouettes. The brand's core mission is to make sustainable fashion accessible to all. Their commitment to progress extends throughout the supply chain, emphasizing people and sustainability at every step.
Price range: $28 – $1,595.
Sophisticated
Sophisticated fashion represents an elevated and refined style. It's all about polished looks, high-quality materials, and impeccable craftsmanship. This style is perfect for those who appreciate timeless elegance and want to project a culturally aware self.
Stateside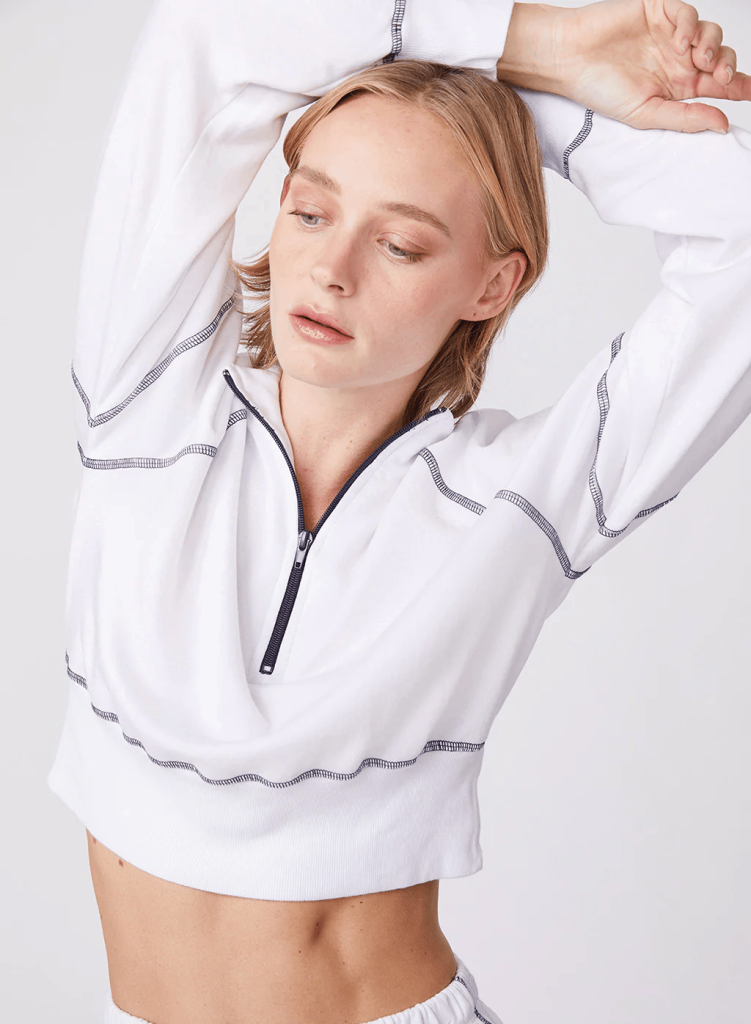 Stateside is a reference to relaxed elegance in Womenswear. Crafted with the finest all-natural fabrics, their smart designs exude softness and comfort, mimicking the feel of perfectly lived-in pieces. Produced in Los Angeles, the collection's weathered color palette includes neutrals and faded brights. With a commitment to staying local, Stateside ensures quality, sustainability, and support for local communities.
Price range: $64 – $228.
LESET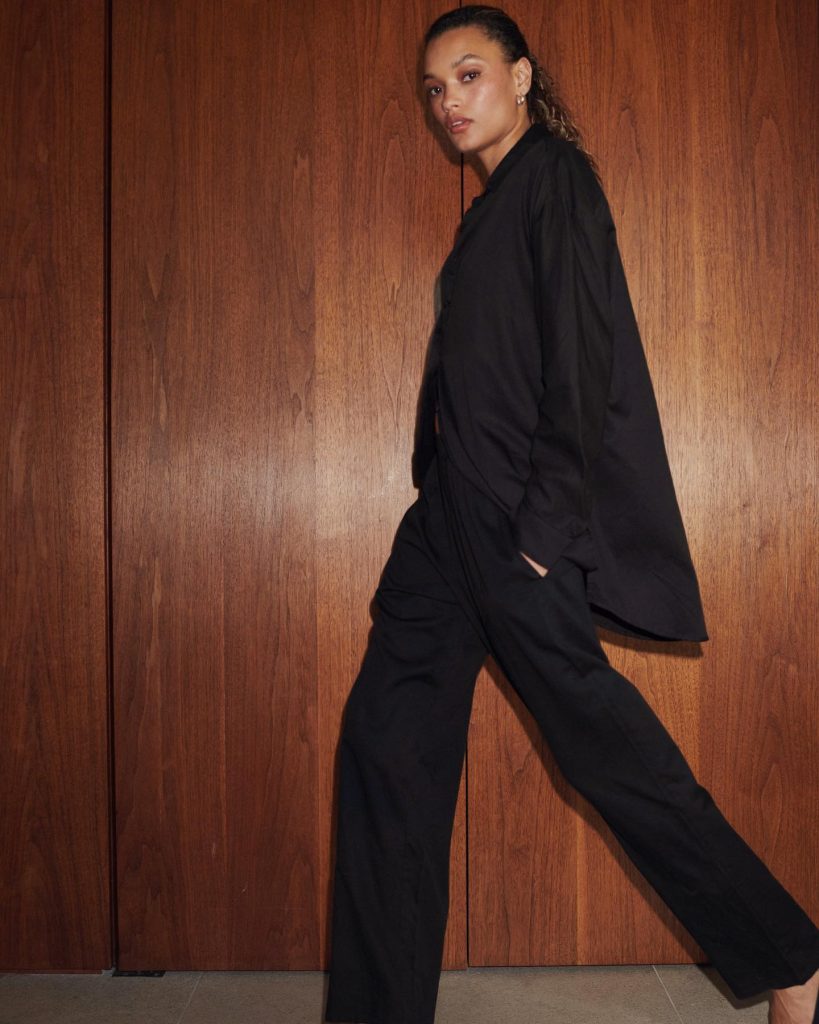 LESET arrives on this list redefining the modern woman's forever wardrobe. Founded by Lili Chemla in 2019, LESET offers mix-and-match sets, elevated basics, and seasonal hero pieces designed with day-to-night versatility, elegance, ease, and comfort. Organized by fabric sets, building a cohesive wardrobe is effortless. Loved by celebrities and featured in top fashion magazines, LESET is proudly made in Los Angeles and available in premium retailers worldwide.
Price range: $90 – $650.
Joe's Jeans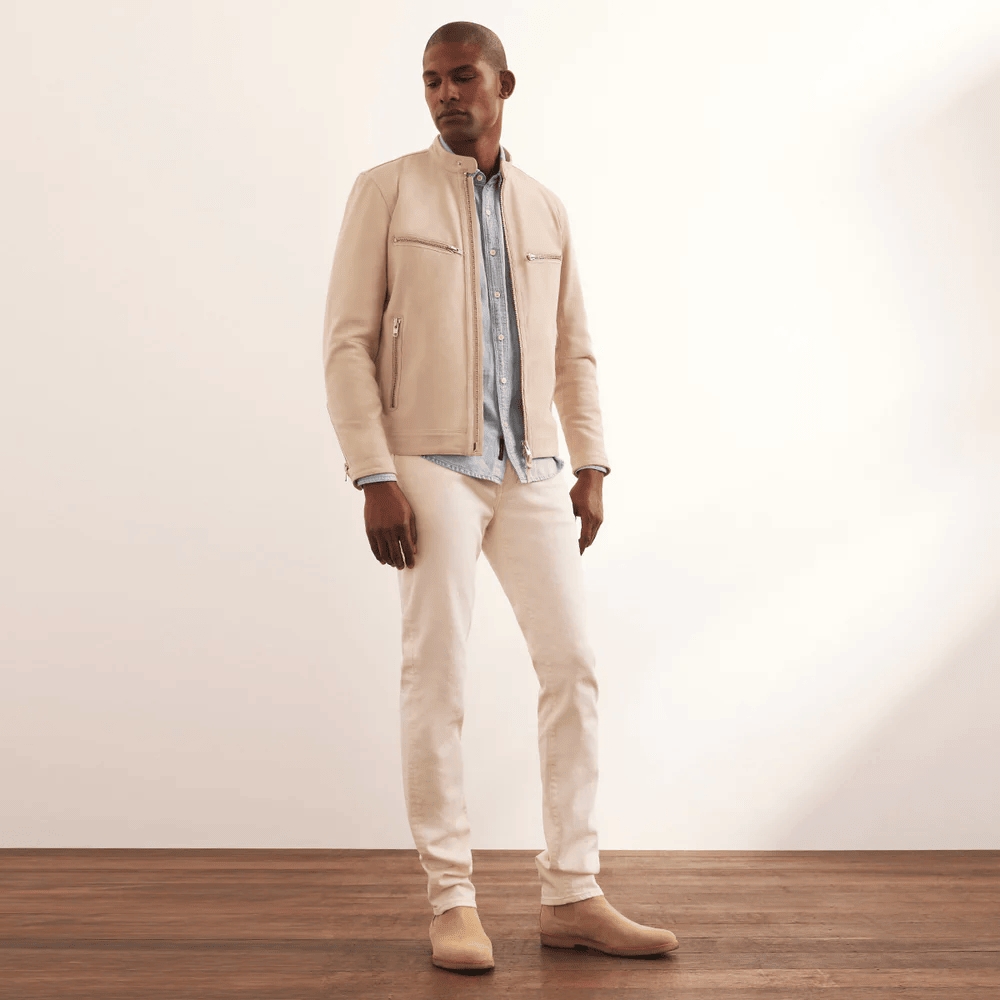 Joe's Jeans embodies everyday style with an LA sensibility and rock + roll edge. Founded by Creative Director Joe Dahan in 2001, Joe's takes a revolutionary approach to denim and sophisticated classics. With a focus on the perfect fit for everyone, their products combine beauty, innovation, and flawless tailoring.
Price range: $68 – $998.
Avant-garde
Avant-garde fashion is experimental and innovative, often pushing the boundaries of traditional styles. It challenges conventional norms and embraces unique and unconventional designs–almost with a futuristic vision of the personal wardrobe. Think of The Hunger Games kind of clothing!
If you love to express yourself uniquely through clothes, here are 2 LA clothing brands perfect for that:
H. Lorenzo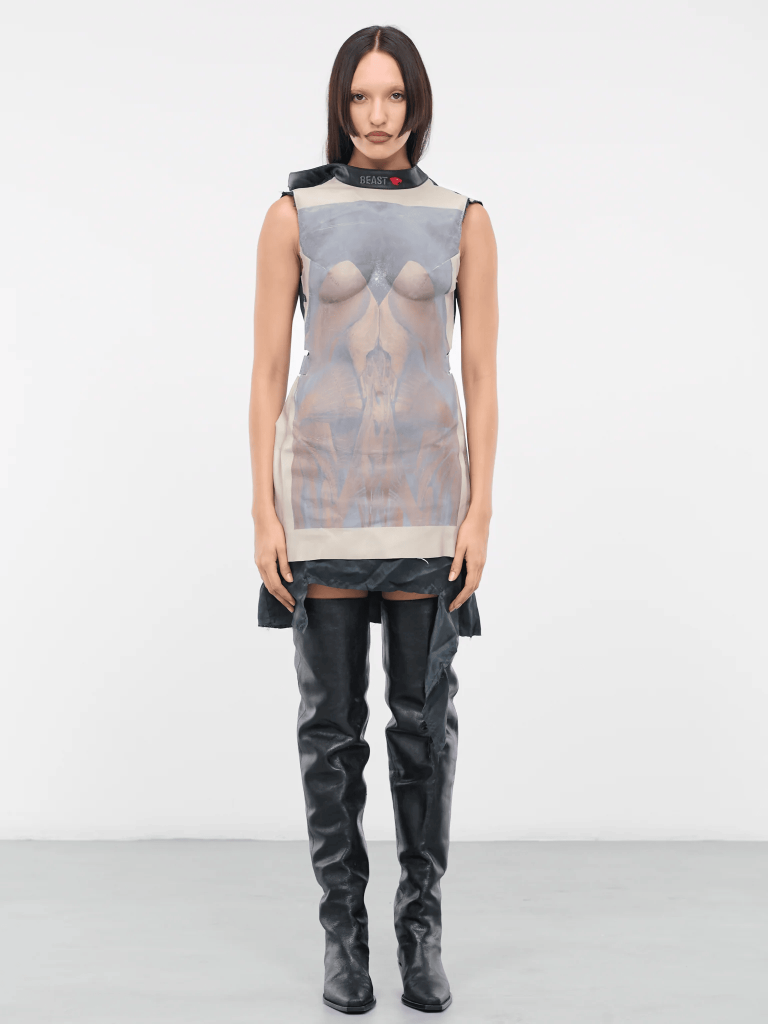 H. Lorenzo is a multi-label fashion retailer with five boutiques in Los Angeles. With over 25 years of experience, Lorenzo Hadar curates one-of-a-kind artisanal Japanese and European designers for both men and women. From established names like Comme des Garcons to emerging labels from Europe and Japan, H. Lorenzo offers a destination for progressive and unique designs.
Price range: better to check it out by yourself ;).
Alexander Wang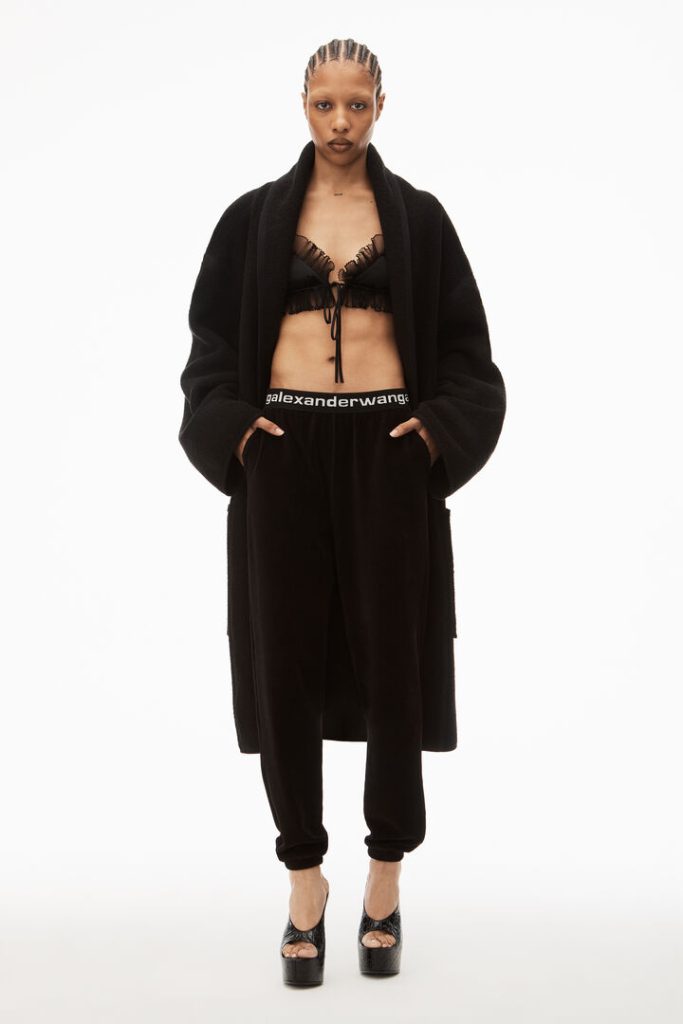 Alexander Wang's design style and inspiration are a celebration of youth culture and social media. With a focus on street culture and New York City's nightlife, he redefines luxury fashion with a laid-back, effortless cool. His nonconformist ethos and emphasis on experiential catwalk presentations have garnered a strong following. Collaborations with brands like adidas Originals and H&M add authenticity to his designs, making them exciting and unique. Wang's ability to balance creativity and business strategy has solidified his brand's success in the ever-evolving fashion landscape.
Price range: $25 – $2,595.
Retro
Nostalgy is a classic fashion mood. The retro style draws inspiration from past decades, offering a "look-back" trendy appeal.
It incorporates vintage elements with a modern twist, creating a unique and fashionable approach.
Here are some favorites of ours out of Los Angeles:
Monitaly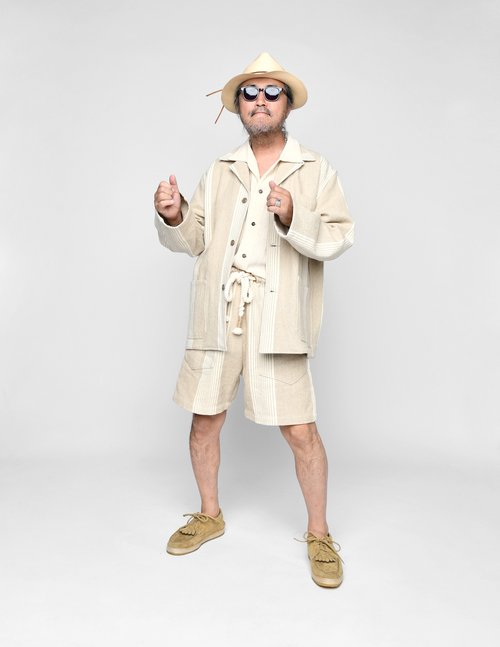 Monitaly, led by designer Yuki Matsuda, reimagines classic American styles with a fresh perspective. Combining rich heritage with innovative thinking, they elevate casual garments and revive formal silhouettes through meticulous reevaluation. Their exceptionally crafted pieces embody American craftsmanship infused with worldly flair. Monitaly's ultimate goal is to create timeless garments that age gracefully and continue to captivate the fashion world for generations to come, appealing to adventurous spirits seeking unique and fulfilling clothing.
Price range: $88 – $2,100.
AMO Denim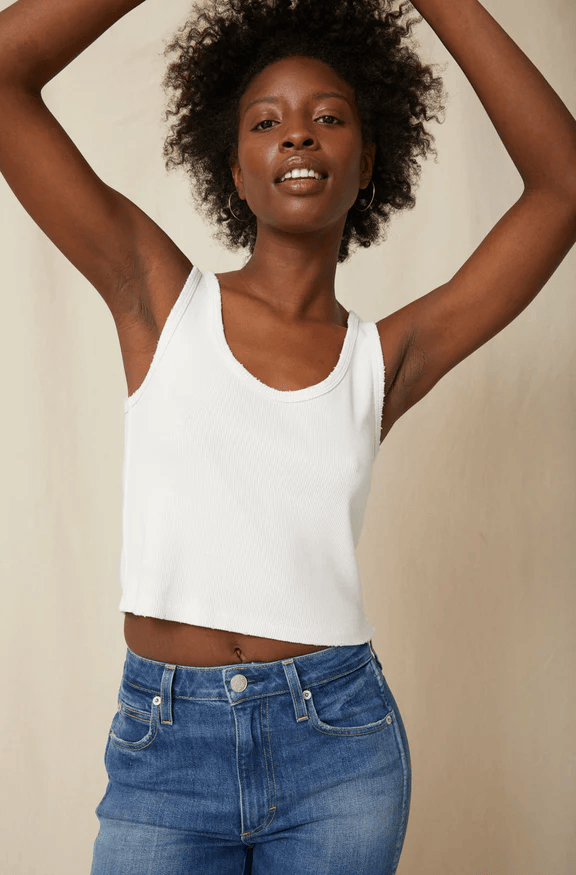 AMO Denim, rooted in love, started in 2014 with a mission to craft authentic jeans. Using premium, sustainable fabrics from renowned denim mills, their collection blends artful and genuine details. Hand-distressing and signature flat-felled out-seams are woven into their timeless jeanswear, woven tops, and knitwear, all proudly made in California. Each piece is designed to be well-loved, offering distinctive fits, washes, and romantic touches for your everyday wardrobe.
Prize range: $83 – $515.
MOTHER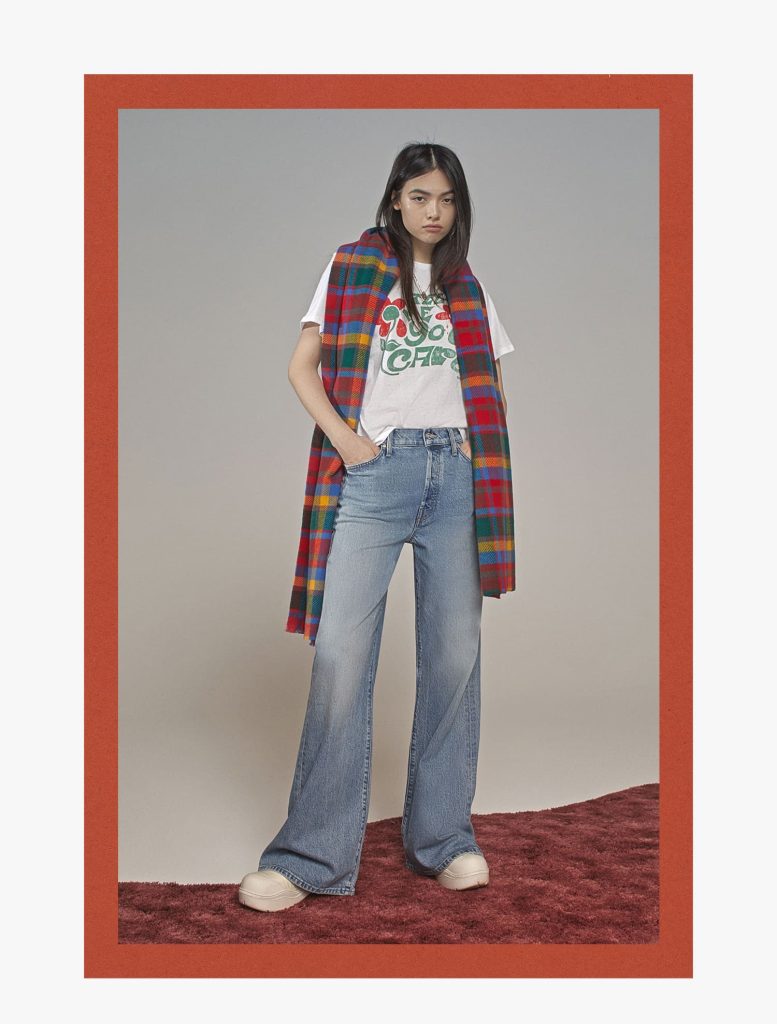 The L.A.-based MOTHER embraces an irreverent spirit, super-soft fabrics, and a devoted model following. With an indie touch, they offer diverse fits and washes. From denim to sportswear, outerwear, and accessories, MOTHER's spontaneous vibe has evolved into a lifestyle brand, reminiscent of carefree California in the 70s. Unfiltered, brazen, and amusing, MOTHER celebrates the freedom to be yourself.
Price range: $24 – $1,650.
Sportswear
Sportswear combines style and functionality. That's its goal. Garments are comfortable and versatile pieces suitable for active lifestyles. It caters to the growing trend of athleisure, providing clothing that seamlessly transitions from the gym to daily life.
Here some unique LA-based brands where you'll find excellent sporting options:
Year of Ours
The Years of Ours is a female-led activewear and lifestyle brand based in Los Angeles, CA. They prioritize fit, performance, and contemporary designs, catering to the dynamic and modern woman. Co-founder Eleanor Haycock's desire to find flattering and empowering activewear led to the brand's inception in 2016. With a focus on comfort, sweat-wicking, and compression, their fabrics are designed to perform and feel amazing. They offer extended sizing, ensuring their styles flatter everyone.
Price range: $48 – $200.
Extracurricular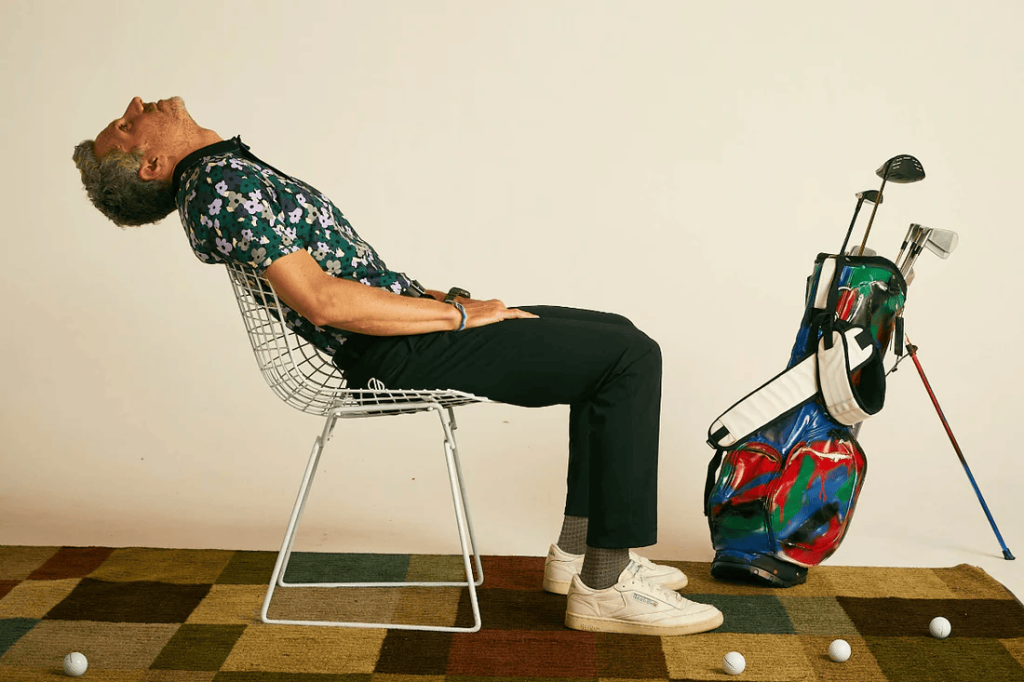 Extracurricular is a brand celebrating well-spent time, designed for the multi-hyphenate gentleman who embraces leisure. Their sportswear classics embody a lifestyle untethered to one athletic pursuit. From greens to cocktails, their refined yet irreverent pieces are a blend of Steve McQueen and JFK styles, with a touch of Don Perignon and PBR. Designed for adventure and a quick 9 holes, extracurricular is the cooler, confident cousin of athleisure.
Price range: $34 – $145.
Athleta
Athleta is more than just a clothing brand; it's a community of women committed to making a positive impact. As a certified B Corp, they prioritize people and the planet. Their inclusive approach celebrates women of all ages, sizes, and backgrounds. With a design philosophy of "Beautiful. Technical. Conscious," Athleta offers a wide range of high-quality products for every aspect of life, ensuring that all women feel empowered and supported.
Price range: $10 – $299.
Find your next wardrobe staple
As you delve into the number of LA-based clothing brands in this list, we hope you've discovered an array of styles that resonate with your fashion preferences or the perfect garment for a thoughtful gift.
From the urban edge of streetwear to the elegant allure of minimalist fashion, these brands embrace the essence of California's diverse and vibrant culture.
---
You might also like: How to Style Leather Pants: 5 Tips & 7 Looks to Rock Them.