If you like to take care of your nails and are always up to date with the latest fashion, you need to know the essentials the beauty industry is providing you with.
Do you remember the first time you chose to take real care of your nails, from nail polishes to nail tools? And you discovered that you could finally live without a nail technician to care for your beautiful hands.
If you draw a timeline from that day until today, you'll see a lot has changed in the nail care industry and the products you use probably improved too.
And it's not all about beauty anymore. From all of these changes, could you name the essentials to keep your nail care healthy today? We thought about it, and we invite you to understand what the beauty industry is saying when they're talking about restorative nail care.
What is Nail Care?
Taking care of your nails to make them beautiful is just one of the angles you can look at it. Having healthy nails takes a little bit more than just good nail polish.
When you take care of your nails properly, you're avoiding:
Fungus infections
Ingrown toenail and fingernail
Skin infections on fingers
People with conditions such as diabetes should be even more careful with how they treat their nails since a nail infection is more dangerous for them.
Do you have proper nail care? What are the best practices for maintaining healthy nails, and how can the beauty industry's new products transform your daily care?
How do you know if your routine is healthy?
First of all, check if your nails are healthy:
They need to be firm and smooth
The nail plates should look moisturized like blood flow is working well.
The cuticles (nail beds) should be visible?
The tips of your nails have to be strong
Your nails shouldn't be discolored or rigid
Visits to dermatologists should be part of your year routine
Do you need a nail expert?
Yes and no. Nail technicians are professionals that study nail anatomy. They also know the latest trends when it comes to beautifying your nails and treating them at the same time.
So, yes, a nail technician is more than welcome from time to time. Having your nails regularly seen by a pro is mandatory for a healthy routine.
But, daily self-care is mostly needed. And, as we said, the beauty industry has been taking good care of the subject. Nowadays, you can find:
Non-damaging gel polishes that have vitamins in the composition and truly help to strengthen the nails
Advanced cuticle oils that nourish and preserve the nail plate too
Acetone-free gel polish remover that preserves the integrity of the nail plate and doesn't let the cuticles dry
How to take care of your nails and still keep them looking like they were taken care of by a PRO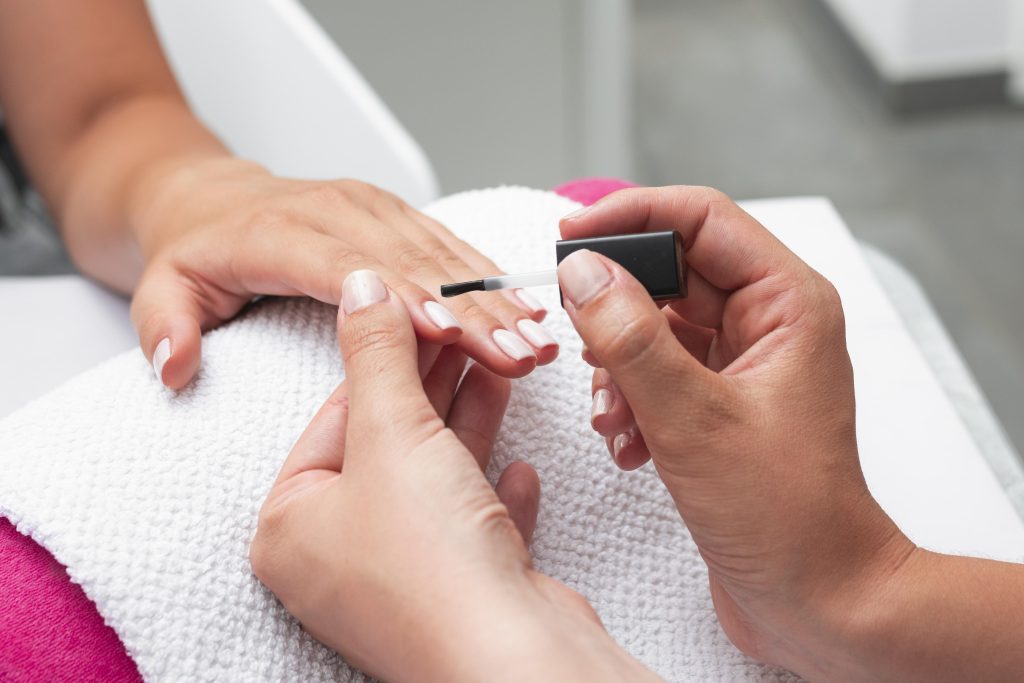 As we mentioned, the beauty industry has improved a whole lot of products to give more autonomy to nail enthusiasts and more tools to nail care pros. And taking care of nails daily is easier today. Here are the tips to make your nail's home care succeed:
Moisturizing This is usually overlooked when the subject is skincare, but brittle nails result from a simple lack of hydration. New habits with the use of hand sanitizers demand new habits. And there are so many products that can help with that, like a that will rather treat your skin. Apply lotion daily
Harmless nail polishes. The so-loved gel nail polishes can be damaging to the protective layer your nail has. Long nails can get weak and break with time due to harsh chemicals. But advances in technology now offer customers nail polishes that are less aggressive to the skin and the environment.
Acetone-free nail polish remover You don't need acetone to take care of your nails. Nor caustic soda. Nor thinner (yes, you can still find products that damage your skin and nails!). With the right ingredients, some brands are committed to health like they commit to beauty.
Oils to nourish A critical step towards nail perfection in health and beauty. A blend of oils such as jojoba oil, rice bran oil, coconut oil, sweet almond oil, rosehip oil, cinnamon leaf oil, and even others like coconut oil and olive oil acts as a natural antibacterial
A safe way to dry gel nail polish If you are a nail enthusiast looking for technological advances in the beauty industry, a lamp to dry off gel nail polish might come as one of the items you are aware of. UV light products can harm the skin. Led lamp ones are safer and avoid a burning sensation.
Brands that take care of your nails are usually taking care of the environment.
All these changes in nail technology point out a change in the mindset of brands: safer for the skin and safer for the environment in general.
If you are willing to research more about new technologies to improve your daily nail care, just be sure to look for ones that provide the best to both enthusiasts and professionals.
Search for reviews since they're so new. A good example is Mini Mani Moo, a nail care brand that has been making history in the beauty industry. Some of its features:
It's vegan
Has social commitment
It's well-reviewed in beauty magazines (pros or not pros)
A good brand in the beauty industry should be at the tip of your fingers anytime you're looking for health in addition to beauty.